If you're looking to edit twitch clips upload to TikTok or YouTube shorts, you've probably come across StreamLadder and Clipbot.
StreamLadder was the first tool to popularize the simple format of Twitch Clips → TikToks. It started a huge push for streamers to put their clips on other platforms, and has helped tons and tons of channels grow like never before.
If you haven't ever made a TikTok, Reel, or YouTube Short from your clips, StreamLadder is an AMAZING tool to get started. It's extremely straightforward, and offers more than enough options for you to make quick solid content for all the new mobile platforms.
StreamLadder has premade but customizable crops to help you get the most of your gameplay and face into awesome mobile videos. There's no download needed, and basically no setup. Without seeing StreamLadder once, you can get your first clip out the door in easily under two minutes.
On top of all of this, if you're uploading to TikTok, StreamLadder offers a "Send to TikTok" option - which will magically send the video to the TikTok app where you can add sounds/edits before publishing.
So, StreamLadder is pretty damn great. Is there any reason to use anything else?
One word: Automation.
If you want to go to StreamLadder.com, select a clip, pick a template, download it or send it to TikTok, add TikTok edits, title it, add hashtags, and publish it, every single time, that's great! It's a perfect tool for you. (Although if you want better editing, try combo)
But, if you find yourself doing the same edits to most of your clips, with your camera and crop often in the same place, Clipbot might be a better choice.
Instead of manually editing and uploading every clip, Clipbot does the editing and uploading for you. With Clipbot, you only need to set it up once with your preferred cam/screen crop, login to TikTok and YouTube, and Clipbot will handle the rest.
Clipbot pulls your clips from Twitch automatically, converts them to vertical videos, and uploads them to TikTok and YouTube shorts for you overnight!
If you want to add custom titles, custom hashtags, custom descriptions, or custom tags, you can do that all inside of Clipbot! Take the time to make everything perfect, or just let Clipbot post it with your usual hashtags and the original title.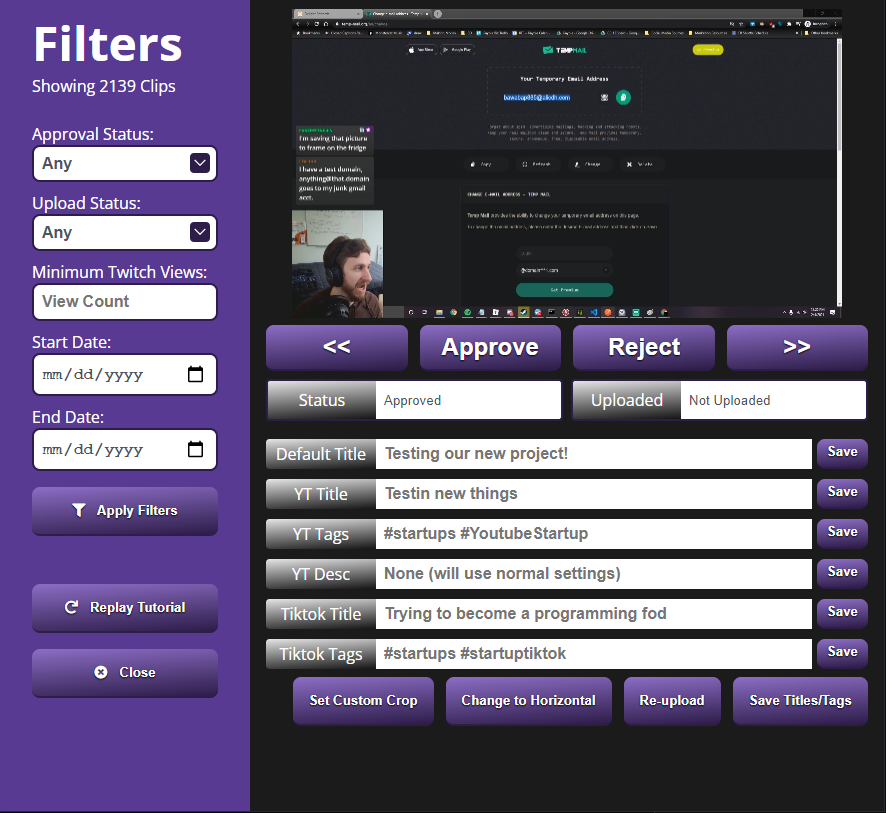 It's up to you to decide how you want to post your content, and how much control you want.
If you only want to post a few clips, and want to edit them individually, StreamLadder is an amazing tool that you should absolutely use.
If you want to post more content, and want the uploading/editing handled for you, Clipbot might be a good choice.
Read more about StreamLadder: StreamLadder.com
Read more about Clipbot: Clipbot.tv